About Us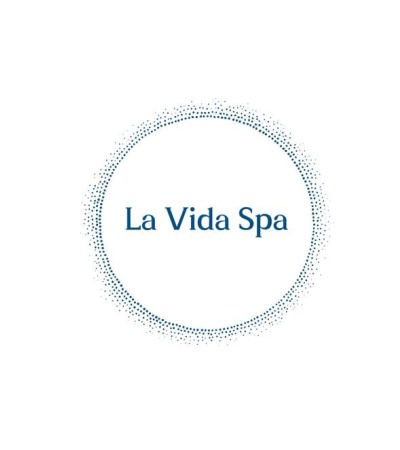 Our Spa
At La Vida Spa, we offer professional spa and facial treatments, therapeutic, deep tissue, and a large selection of relaxing and rejuvenating facials. La Vida is locally owned and operated and uses many locally-produced products. As a local woman owned business we believe strongly in empowering women, supporting local businesses and supporting our community. We strive to do so by purchasing local products, sellingn local and hosting healthy and fun community events at our spa, be sure to check out our Community Events Page to see whats coming up next!
Our staff is made up entirely of Master-Level therapists, each with between 10 and 30 years of experience.
We use only natural and organic products in all of our massage and scrub treatments. Our expert estheticians use Dermalogica products in all of our facials. Dermalogica is cruelty free, certified vegan, and free of fragrances.
All treatments run a full 60, 90 or 120 minutes - no shortened hours at La Vida Spa!
We are open Monday-Sunday from 10am-6pm.
Website Photo Credits
All images of models and treatments on the La Vida website are courtesy of event photographer, Abie Livesay. You can find all of Abie's content and more on her website: www.abielivesay.com
Meet our Therapists
Cynthia Lee, Registered Massage Therapist
Cynthia is a Colorado native who has spent 17 years living in New Mexico. She has over 10 years of experience as a Registered Massage Therapist licensed in Colorado, Hawaii, and New Mexico, has over 35 years as an energy healer, and is owner of High Mountain Hokulea Therapeutic Healing LLC. Cynthia is trained in a variety of modalities, including Advanced Swedish Massage, Deep Tissue, Hot Stone, MyoFascial and Body Restructuring, Reflexology, Shitasu, Reiki, Sports Massage, Cranial-Sacral and Hawaiian Lomi-Lomi Massage. Cynthia Brings a cross-cultural knowledge to her practice, gained over years of learning from professionals at the top of their field in Hawaii, Colorado, and New Mexico. She specializes in pain and stress release addressing the needs of the client for a customized therapeutic massage, helping clients to improve their health through holistic and life-style choices. Her profound connection with the natural world enables her to bring fundamental grounding elements to her technique, helping clients re-generate, heal, and relax.
Desiree Granado, Esthetician
Desirée Granado, is originally from Rio de Janeiro, Brazil, and has been in Santa Fe for 17 years. Deda graduated from the Vogue College of Cosmetology in Santa Fe in 2012 and became certified as a Licensed Esthetician by the state of New Mexico shortly thereafter. She has worked at medical spas, and was an esthetician at 10,000 waves for 7 years. Deda specializes in Skin Analysis, European Facials, Lymphatic Facial Massage, LED Light Treatments and Biotherapeutic Micro Therapy. In addition to her work at La Vida, Deda spends time cooking, hiking, and practicing Samba dance.
Heidi Timm, Massage Therapist
Heidi has been a Massage Therapist since 1985, working in private practice, sports medicine clinic with Physical Therapists, as well as many spa settings. She has taught anatomy/ kinesiology within a Massage Therapy Program at Lane Community College, Eugene, Oregon. In 2005, she completed a 500 hour Ortho-Bionomy Practitioner's diploma (positional release, decompression techniques) at NM Academy of Healing Arts (NMAHA) in Santa Fe, NM. In 2014 she received her 700 hour Craniosacral Diploma from Etienne Piersman and NMAHA. Heidi brings her experience from the movement arts to her work. She has a Bachelors of Fine Art in Dance, competed in National Collegiate gymnastics, has training in Thomas Hanna Somatics and Tai Chi. She has performed and taught Contact Improvisation movement, touring the US. Psychotherapy, Buddhist philosophy and meditation have also influenced her work and life. Heidi says, "I love doing massage for the one on one relationship and for the challenge of providing solutions to problems that can arise in the body. I strive to meet the person and their needs for the time I am at their service."
Hilary Kingman, Massage Therapist
Hilary is originally from WA state and has recently relocated to New Mexico. She's been practicing massage for over ten years, and her first training in the world of bodywork was in 2012 apprenticing a Thai massage master. In 2013 she went to massage school in Kauai and has devoted her life to this career path ever since. Hilary has also completed numerous CranioSacral trainings, with her first one in 2014. She has worked in many spa settings and had her own private practice in WA state for 6 years, offering many forms of bodywork including Lomi Lomi, Structural Integration, Reflexology, Swedish and Trigger Point Therapy. Her approach to the body is slow, deeply listening to each client and what their needs are for healing. With her diverse toolkit, Hilary can help anyone in need of relaxation and has many skills to support the body for more therapeutic work. She loves helping clients learn more about their bodies and teaching people how to better care for themselves.
When she's not offering bodywork, Hilary recharges in nature regularly. She especially loves hot springs, cold plunging in rivers, lakes and streams, and surfing in the ocean, when she has the chance. Water is a revered ally to Hilary and she cleanses herself in this element frequently. The ocean is a place of refuge for her, and she loves to take trips to Costa Rica to visit the Pacific there.
Jeffrey Yates, Massage Therapist
Jeff has been practicing intuitive precise body work for 13 years after graduating from Crestone Healing Arts Center. His extensive studies in Sweedish, Deep Tissue, Shiatsu, Acupressure, Reiki, Craniosacral Therapy, and watsu help him meet his clients at the deepest level for that day. He loves to offer a gentle approach to deep therapeutic bodywork that leaves his clients feeling nurtured and blessed. His continued commitment to self cultivation in meditation, Thai Qi, yoga and scholastic studies help him resonate a peaceful and compassionate presence. Healing is a gift and Jeff enjoys sharing his gifts with the world.
Karin Holzscheiter, Massage Therapist
Karin comes to us all the way from Germany, though she has been a Santa Fe resident since 1985. She has been a massage therapist since 1992, with 25 years of private and spa service under her belt. Karin studied initially at the Rolf Institute and Guild for Structural Integration in Boulder, CO and has done additional studies in Structural Integration and Craniosacral Therapy. Her particular specialty is deep tissue. "What I like most about being a therapist is that I can positively affect the lives of my clients. Whether this happens by aiding in stress reduction, recovery from an injury or an illness, or simply by stimulating healing potentials — there is nothing more rewarding than helping a human being feel better and more relaxed through my work".

Her outside interests are being in nature, hiking, running and bicycling. She also loves studying nutrition and helping her husband in cancer research. Karin also enjoys photography and making jewelry.
Kelleen Theis, Esthetician Massage Therapist, RF, CT
Kelleen moved to Santa Fe 30 years ago from the Virgin Islands, where she managed health food stores, raced bicycles, sailed and competed in running and swimming. She graduated from the New Mexico Academy of Massage and Healing Arts in 1992 and has been practicing massage for the past 25 years. Aside from a private practice, Kelleen spent ten years working at the El Gancho Health Club in Santa Fe before joining La Vida when it opened in the summer of 2005. Kelleen's extensive background in sports and natural healing arts gives her a broad basis for her approach to a thorough full body deep therapeutic massage. Her emphasis is on lymph, joint, and muscle release techniques, bringing length and circulation to muscles to relieve joints, ligaments and tendons. Hers is a unique blend of strength and nurturing.
In addition to providing excellent bodywork, Kelleen also offers facial treatments at La Vida, as she is an Aveda trained, Dermalogica Certified, Skin Therapist, as well. She has spent most of her life studying natural health and healing. She has worked in a corporate capacity for many well known natural skin care lines as an educator and representative. Kelleen combines her knowledge and facial massage skills to enhance the efficacy of our professional products to deliver a blissful, skin enhancing customized experience.
Community Events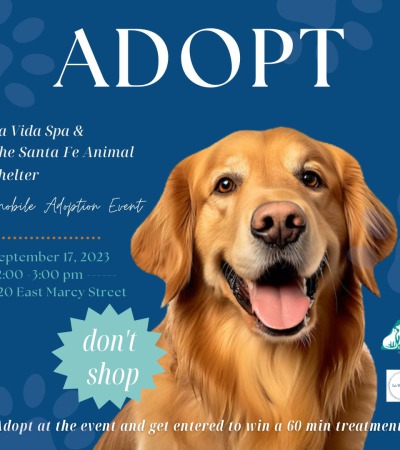 Santa Fe Animal Shelter Adoption Event
September 17th 2023
12 pm to 3 pm outside of La Vida Spa at 320 East Marcy Street, Santa Fe, NM.
La Vida Spa is proud to partner with The Santa Fe Animal Shelter to host a mobile adoption event. Join us for this local event outside of our location and take home a forever friend! It has been scientifically proven that owning a pet can decrease one's cortisol levels, and increase positive neurotransmitters, amongst other "happy hormones." In addition, owning a pet can lower stress, anxiety and even blood pressure levels. Overall, adopting a new best friend can scientifically improve your well-being so we look forward to see you at the event!
If you take home a pet, you will be put in a raffle to win a 60 minute massage treatment at La Vida Spa!