Community Events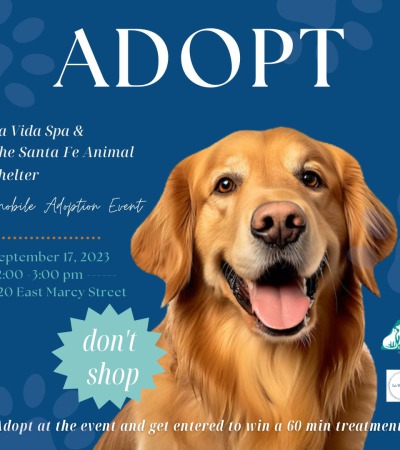 Santa Fe Animal Shelter Adoption Event
September 17th 2023
12 pm to 3 pm outside of La Vida Spa at 320 East Marcy Street, Santa Fe, NM.
La Vida Spa is proud to partner with The Santa Fe Animal Shelter to host a mobile adoption event. Join us for this local event outside of our location and take home a forever friend! It has been scientifically proven that owning a pet can decrease one's cortisol levels, and increase positive neurotransmitters, amongst other "happy hormones." In addition, owning a pet can lower stress, anxiety and even blood pressure levels. Overall, adopting a new best friend can scientifically improve your well-being so we look forward to see you at the event!
If you take home a pet, you will be put in a raffle to win a 60 minute massage treatment at La Vida Spa!